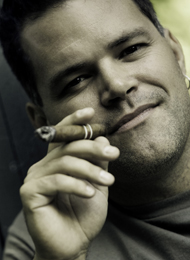 Age: 37
Residence: Vancouver
Agency: Pacific Artists Management
Buzz: Graduates from supporting role on cult fave Battlestar Galactica to lead on upcoming CTV/CBS police drama The Bridge
AARON DOUGLAS
ACTOR
Aaron Douglas is not your typical leading man. But then The Bridge is not your typical cop show.
Douglas is one of the boys as Frank Leo, a city cop and head of the police union in the drama series that will launch on CTV mid-season as well as on CBS.
Snagging the lead role is just the latest example of the confident Douglas proving he's not to be underestimated. He is best known for his portrayal of Galen Tyrol, aka The Chief, on the now-defunct sci-fi drama Battlestar Galactica, and as series producer Ronald D. Moore has said, Tyrol was initially written as a more minor character, but he was so impressed with Douglas that the role was quickly expanded.
And he nearly missed out entirely on The Bridge. He was not on the original list of actors being considered, but a champion at CTV floated his name and John Fawcett, director of the pilot – which will air as two one-hours – supported the idea. Douglas, too busy on Battlestar for a proper audition, then taped a couple of scene-readings for the producers, and a week later was offered the gig. Joining Douglas in the cast are Paul Popowich, Inga Cadranel, Frank Cassini, Theresa Joy, Ona Grauer, Michael Murphy and Stuart Margolin.
In the opening episode, Leo is put in a spot when he learns that some members of his union have stepped outside the law. The show is grittier than the more common police procedurals, with morality painted in shades of gray, making it like a cable series on network television.
"We're a little more real-life in that sometimes bad things happen, and sometimes retribution and justice just don't come around," Douglas says. "We're going to be a little bit more difficult to watch, but in a good way."
E1 Entertainment, which is producing and handling international distribution, hopes viewers all over the world will be watching. The series was originated by 990 Multi Media Entertainment's Adam Shully and Craig Bromell, whose experiences as head of the Toronto police union provide the series' inspiration. The show was developed with Barna-Alper Productions before that prodco was acquired by E1.
Laszlo Barna, now E1's president of TV production, credits Douglas' maturity. "To play Frank Leo we needed someone who had subtlety, charisma, had to be understated but powerful when necessary, and someone with the technical skills to put all that together, and our inevitable choice was Aaron, because he's got all those qualities," says Barna, who exec produces with head writer Alan Di Fiore, Robert Wertheimer, Shully and Bromell.
Although the Leo character is based on Bromell, Douglas says he's not aiming for impersonation.
"I'm just trying to make Frank right for me and right for the direction I think Alan Di Fiore is taking him in," the thesp says. "My conversations with Craig are mostly based around how do you wear your belt and how do you stand and what do you do in this situation and do you wear gloves and how do you drive and who gets out of the car first – that sort of real cop stuff. I want real-life police officers to watch this show and go 'That's exactly how we do it and they get it right.' That's the best compliment you can get."