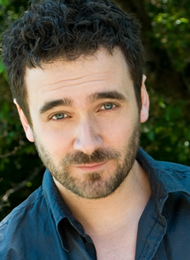 Age: 32
Residence: St. John's, NL and Toronto
Agency: Gary Goddard Agency
Buzz: Actor dons several hats on the action-adventure drama Republic of Doyle, premiering in January on CBC
ALLAN HAWCO
DIRECTOR / WRITER / PRODUCER / ACTOR
Forget what you've heard – Allan Hawco is the CBC's real triple sensation. The actor, who has performed in the miniseries ZOS: Zone of Separation, Above and Beyond and H2O, will return to the airwaves in January on the Ceeb's one-hour action-adventure drama series Republic of Doyle as leading man, writer, and exec producer. Oh yeah, and did we mention he's a co-creator?
The show, which he co-created with Perry Chafe and Malcolm MacRury (ZOS), stars Hawco as Jake Doyle, who is in the private-eye business with his father Malachy, played by Irish thesp Sean McGinley (The Wind That Shakes the Barley), who replaced East Coast actor Peter MacNeill from an earlier half-hour pilot that had more emphasis on comedy. Together they solve mysteries while Jake deals with what Hawco describes as "pretty extreme personal issues that he's going through."
Call it The Rockford Files on The Rock. Any similarities to James Garner's lighthearted and phenomenally successful 1970s P.I. show are purely intentional.
"That's exactly where it started from years ago – watching The Rockford Files with my dad," Hawco explains. "I was always thinking it would be cool to have a Rockford Files here in St. John's."
Hawco moved to Montreal at age 20 to attend the National Theatre School. He has been producing for the stage since 2004, as co-artistic director with Philip Riccio of Newfoundland's The Company Theatre.
"I'm always interested in driving different projects and being behind the creation aspect of it all, as well as acting," he says. "Acting is certainly my first love and nothing could ever really replace that, but producing and writing and creating is something that I'm just totally jazzed about. I love being engaged on a minute-to-minute basis."
Hawco runs the show with Rob Blackie and John Vatcher, his partners in Take the Shot Productions. Also assuming an exec producer role is Michael Levine. "He's been instrumental in getting this project off the ground," Hawco says of the entertainment lawyer extraordinaire, with whom he has had several projects in development. Levine set up a meeting with CBC Television's Fred Fuchs, executive director, arts and entertainment.
"He came in and he had a story that he was passionate about," Fuchs recalls, having just returned from his first-ever trip to The Rock for a one-day production meeting. "He had a story that he had to tell, and it was a story about a place, it was a story about a people, it was a story that had a soul. Within a half-hour I knew we had a television series."
Until the first season of that series is in the can, Hawco is eyeing many long days on the Republic of Doyle set, but he'll take it. "I've been an actor for a long time – I've had a lot of time to myself," he says with a laugh. "I've had a lot of time to sleep in – I'm good."