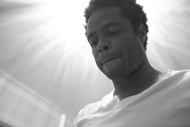 Age: 33
Residence: Toronto
Agency: Vanguarde Artists
Buzz: Director of the acclaimed feature Nurse.Fighter.Boy is following up with a National Film Board doc about Canadian track-and-field star Harry Jerome
CHARLES OFFICER
WRITER / DIRECTOR / ACTOR
When docmaker Ron Mann won the prize for best individual artist at the Premier's Awards for Excellence in the Arts, he was tasked with choosing the winner of the $15,000 emerging artist prize. He chose Charles Officer.
It's no surprise. Officer's career is taking off in so many directions that the Caribbean-Canadian filmmaker can barely contain his excitement. "I'm packing my bags for [the Czech Republic city of] Karlovy Vary to show Nurse.Fighter.Boy at their festival with actor Clark Johnson," he says.
His poetic CFC feature, co-written and produced by Ingrid Veninger, tells the story of a single mother, a boxer and a child converging one night through a chain of events. The drama opened at TIFF08 to strong reviews.
After Officer premieres his film in eastern Europe, he will return to Toronto to prep shoots with R&B singer Divine Brown and rapper D-Sisive for the upcoming interactive music series City Sonic. And he continues an acting career that reached new heights last winter when he played the lead in Theatre Calgary's production of A Raisin in the Sun.
Despite it all, Officer remains focused on his next big project, a feature documentary on Olympic medalist Harry Jerome. One of Canada's pioneering black athletes, Jerome broke the 10-second mark in the 100-meter run – the first North American to do so – in 1960. When he didn't win awards at the 1960 Olympics or the 1962 Commonwealth Games, Canadians "were the first to crucify him," according to Officer. But Jerome's last act as an elite runner is worthy of Hollywood, let alone an NFB doc. Horribly injured at the Commonwealth Games with his quadriceps muscles severed, Jerome returned to capture a bronze medal at the 1964 Olympics. He died of a brain aneurysm in 1982 at age 42.
Selwyn Jacob, Officer's veteran NFB producer, comments: "I see Harry Jerome and Charles Officer as both being visionaries in their respective disciplines – the audience was glued to the image of Harry sprinting to the finish line; similarly Charles has been creating images on the screen that keep the audience reflecting on them long after the film is over. Harry was interested in getting the underrepresented to be involved in all aspects of Canadian life, and the same can be said of Charles in terms of the stories he brings to the screen."
Jacob and the NFB team have come through for Officer, who now has six hours of footage of the Olympics, the Commonwealth Games and much more. He also has the co-operation of Jerome's mother, who will offer insight on Jerome as a young man – "as a human being, not an athlete."