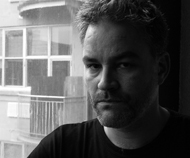 Age: 42
Residence: Montreal
Agency: Agence Omada
Buzz: The co-writer of box office smash De père en flic (Father and Guns) is also the scribe behind two other major features going to camera this fall
IAN LAUZON
WRITER
Although he helped write her hit comedy De père en flic, producer Denise Robert sees Ian Lauzon as a very serious guy.
"I wouldn't define him as funny. He's not the type to crack jokes," says the Oscar-winning producer of Les invasions barbares. "But I don't think you have to be funny to write funny. Comedy is very serious business."
With three high-profile projects on the go, Lauzon, who broke into mainstream film and TV only three years ago, has fast become one of la belle province's most sought-after screenwriters.
"I have been working on three films in the last two years. It's tiring but stimulating. But I had solid training and it's serving me well now," says the soft-spoken and reflective Lauzon.
Director Émile Gaudreault (Mambo Italiano, Surviving My Mother) brought Lauzon on board to co-write De père en flic, a comedy about a father-son cop team featuring two of Quebec's most popular actors: Michel Côté of the Cruising Bar films and Louis-José Houde of Bon Cop, Bad Cop. The title plays on the French phrase for "from father to son," with "flic" (cop) replacing "fils" (son). The Vivafilm release pulled in $7.9 million in the five weeks following its July 8 opening, and is the front-runner for Canadian film of the year.
Lauzon has also penned two films going into production in September that promise to make a splash: Pixcom's Piché: entre ciel et terre, the dramatic true story of Quebec pilot Captain Robert Piché, who successfully crash-landed an Airbus in 2001, starring Côté, and the historical comedy Cabotins, about Quebec's once-thriving burlesque scene, produced by Novem Communication, directed by Alain Desrochers (Nitro) and starring Rémy Girard.
And along with life partner Catherine Léger, Lauzon has completed scripting 11 episodes of Le Meeting, a series about alcoholics that, at press time, awaits a green light from Radio-Canada.
Lauzon, who was born in Sherbrooke, QC and studied French literature, cut his teeth in documentary film, underground theater and low-budget auteur cinema before getting his big break in 2006 writing the Quebec adaptation of BBC comedy series The Office, translated as Le Job.
The same year, he scripted the low-budget feature Bobby, which screened at Montreal's Festival du Nouveau Cinéma, and wrote and directed the feature-length doc Confession des masques.
"I am very ambitious, but I wanted to allow myself the time to study, to learn the métier and create solid foundations. I did a lot of reading," he says of his late blossoming in the industry. "And I worked in the shadows for a long time. It's a hard business. I didn't have any family contacts."
Producer Robert, who hopes for an English-Canadian release for De père, says the secret of Lauzon's newfound success is simply that "he's a very talented writer," adding, "He's always open to discussing things, and pushes himself to go farther."
Lauzon is more humble, explaining, "I have a great agent [Nathalie Brunet] who believes in me and introduced me to the right people."