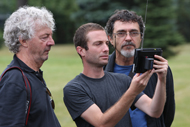 Age: 29
Residence: Montreal
Agency: Gary Goddard Agency
Buzz: With his Jay Baruchel-starring comedy feature The Trotsky promising a breakout, the actor-turned-filmmaker has two more high-profile features lined up
JACOB TIERNEY
WRITER / DIRECTOR
Twenty-nine-year-old Jacob Tierney has what it takes to push Canadian cinema "where it needs to go."
That's the opinion of Montreal actor and Hollywood darling Jay Baruchel (Million Dollar Baby, Knocked Up, Tropic Thunder), who stars in Tierney's upcoming feature The Trotsky, a comedy about a resolutely optimistic young radical named Leon Bronstein who is convinced he's the reincarnation of Leon Trotsky. The film will see release through Alliance Films.
"Jacob is incredible. He has clarity of vision and the confidence – or at least he acts like he has the confidence – to execute his ideas," says Baruchel.
The thesp, who has known Tierney for most of his life, believes the young director is part of an energetic, talented group of up-and-coming filmmakers destined to shake up the Canadian film industry. "I'm really proud to be part of this generation," says Baruchel, who divides his time between Tinsel Town and domestic productions.
For his part, Tierney says he's committed to making distinctly Canadian films that are popular. "I want to tell universal stories. I can't think of a culture that doesn't do that without turning on itself. I believe my vantage point can reach a lot of people," he says.
What makes Tierney's art unusual is that he explores an aspect of Canadian culture that rarely makes it to the big screen: English Montreal, one of the only places in North America where English-speakers are a minority. "My humor is very 'Montreal.' Most of the jokes I make are about language – especially translation," he quips.
The son of veteran Montreal producer Kevin Tierney (Bon Cop, Bad Cop) – which doesn't hurt – the filmmaker of mixed Jewish-Irish heritage is an actor in his own right, with credits including the mini St. Urbain's Horseman, feature Walk All Over Me, and series Slings & Arrows. He has been on set most of his life, beginning his career in primary school. By the time he was 14, he was hooked on the big screen's storytelling potential. "I didn't really decide I wanted to be a director, but I realized I wanted to tell stories, so I just started writing," he recalls.
Tierney began the scripts for The Trotsky and earlier film Twist (2003), which sets Dickens' Oliver Twist in the modern world of male hustlers, while still in his teens. "They both have an adolescent outlook," he says. "Twist is about despair and Trotsky is about hope. The stories are black and white. My next projects are a bit gray."
In February, Tierney will start shooting Notre Dame de Grace, a darkly comedic film set in post-1995 referendum Montreal and based on Chère voisine (Dear Neighbor), a novel by award winner Chrystine Brouillet. "It's about three people living in an apartment complex and one of them is a serial killer," he says. Produced by his father's company, Park Ex Pictures (as was The Trotsky), Notre Dame de Grace will reassemble part of Trotsky's cast, including Baruchel and Anne-Marie Cadieux.
Tierney is also making a Montreal version of The Good Terrorist, the U.K.-set novel by Nobel Prize winner Doris Lessing. "It's about a bunch of English kids who try to join the FLQ," he explains, referring to the Front de libération du Québec, the nationalist group that kidnapped two government officials in 1970. Rhombus Media's Niv Fichman is on board to produce.
Although these projects place Tierney on the verge of a major breakthrough, he remains dissatisfied with his rate of progress. "My plan was to have completed five features by the time I was 30," he says, laughing.