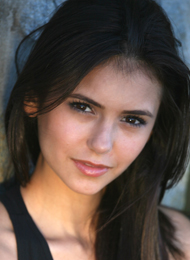 Age: 20
Residence: Toronto
Agency: Noble Caplan Abrams (Canada), Innovative Artists (U.S.)
Buzz: Will be seen this fall starring in The Vampire Diaries, the highly anticipated new drama airing on The CW and CTV
NINA DOBREV
ACTOR
It's another case of a kid from Degrassi done good.
Degrassi: The Next Generation, the venerable youth drama from Epitome Pictures and CTV, has secured its spot as the top production for graduating young Canadian talent across all disciplines.
And actors are no exception: Nina Dobrev landing the lead role in The Vampire Diaries – the hyped new series airing this fall on The CW and CTV – comes just one year after her former Degrassi co-star Shenae Grimes was cast as the principal on the same U.S. network's 90210.
Bulgarian-born Dobrev, who started her career modeling, places great value on her four seasons playing Mia Jones on the Toronto-shot show.
"I had a chance to experiment, learn on-set etiquette, get comfortable and really play," she says. "We had a great crew, amazing producers and wonderful cast," she continues.
Dobrev has also appeared in several high-profile Canadian features including How She Move, Away from Her and Fugitive Pieces. She will soon be seen in the Atom Egoyan-directed erotic thriller Chloe, also starring Liam Neeson and Julianne Moore.
The actress acknowledges that her rise to leading-lady status has come quickly. "I feel like it was yesterday when I started acting," she says. "Looking back on everything over the past four years, I feel very lucky to have worked so much and have great projects under my belt that I am very proud of."
The Vampire Diaries is based on a series of bestselling books by L.J. Smith that first appeared in the early 1990s. In the show, Dobrev plays Elena Gilbert, a Virginia high school senior who was popular and carefree until her parents died in a car accident, changing her forever. She meets a pair of brothers – a good bloodsucker/bad bloodsucker duo (Paul Wesley and Ian Somerhalder) who vie for her soul.
Contrary to U.S. television tradition, Dobrev beat out about 200 fellow thesps for the role without having met anyone from the studios (Warner Bros. Television/CBS Television Studios) or the network. She was too busy to attend the auditions in person, so she took it upon herself to tape her audition at a local studio and send it in.
Everybody was sold on Dobrev, so, in the interest of due diligence, the producers had her do a screen test with another actor they were considering, and that was that.
Julie Plec (Kyle XY), one of the show's executive producers and one of its main writers along with Kevin Williamson (Dawson's Creek), says that Elena is a complicated role that requires an actress who brings several dimensions.
"She needs to be beautiful and strong, and secure and confident, but still have vulnerability and show her pain," Plec explains. "You've got a lot of girls in this world, and in Hollywood specifically, who have got the looks but not the brains, or they've got the brains but not the looks, or they've got a little bit of everything, but no soul. Nina really delivered on everything we needed her to."