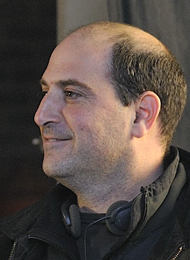 Age: 40
Residence: Toronto
Prodco: Alcina Pictures
Buzz: After collaborating on the internationally lauded feature Amreeka, he landed Rossif Sutherland and his father Donald on The Love Child
PAUL BARKIN
PRODUCER
After years in the trenches of indie film, Paul Barkin has been keeping some heady company of late. Take Donald Sutherland, for example.
Barkin, speaking while on vacation in Maine, stopped by for lunch at the Canadian acting legend's house in Quebec's Eastern Townships a day earlier.
"It was quite lovely," Barkin says. "It was just him and his wife and me and my wife. And it was a fabulous bottle of wine."
Even better was getting the original "Hawkeye" Pierce to star alongside his son Rossif Sutherland in the forthcoming comedy-drama The Love Child, produced by Barkin and Larissa Giroux, his colleague at Alcina Pictures.
First on board was Rossif, who made a name for himself with the features Poor Boy's Game and High Life, Then, surprisingly, the elder Sutherland came forward and said he had read Michael Melski's script and wanted to play the part of a crime boss.
Six years in the making, the $5.7 million feature – $3 million of which came from Telefilm Canada – tells a Runyonesque story for the new millennium: convict Vince (Rossif), who has a penchant for making metal sculpture, gets out of jail and returns to a life of stealing cars. Meanwhile, art dealer Belinda (Ugly Betty's Rebecca Romijn) discovers his sculptures and all of a sudden he's the toast of the art world.
To helm the picture, Barkin brought on Risa Bramon Garcia (200 Cigarettes), a Montrealer with a long career as a casting director and Hollywood ties that could only help.
Barkin displayed similar savvy in helping get the feature Amreeka off the ground. Lead producer Christina Piovesan, a Canuck who had gone to Hollywood, had a promising first-time director in American Cherien Dabis and a compelling script about the struggles of a Palestinian mother and her son after they emigrate to the U.S. at the onset of the Iraq War.
But the indie production could raise only half its budget from U.S. investors. Piovesan approached Barkin, who suggested shooting in Canada and taking advantage of regional incentives. He joined as a producer, and Liz Jarvis of Winnipeg's Buffalo Gal Pictures hopped on as coproducer.
The U.S. (55%)/Canada (38%)/Kuwait (7%) co-venture went on to nab the FIPRESCI Prize at the Director's Fortnight in Cannes, and in France, where immigration is a hot-button issue, it took in US$350,000 in its first five days of release. It will be released domestically through E1 Entertainment.
Barkin sees Amreeka as a model worth emulating.
"We don't have to worry so much about our Canadian protectionism," he says. "Here are Canadian producers doing something on a global level. This was an American film and we found a way to bring it to Canada and finance it with a lot of Canadian sources. It's an evolution of what I think needs to happen."
Barkin attended the Canadian Film Centre in 1996 and made the modest rom-com Apartment Hunting, his first feature, in 2000. He assumed executive producer duties on Bruce McDonald's experimental feature The Tracey Fragments (2007), starring Ellen Page.
Next up, if all goes according to plan, is the $10 million to $12 million sci-fi The Colony, a collaboration with B.C. producer Matthew Cervi to be directed by Jeff Renfroe (Civic Duty).
Meanwhile, Maple Pictures is slated to release The Love Child next year. Says Maple co-president Laurie May: "Paul is a unique combination of perseverance, creativity and business acumen. His track record to date is impressive and he's got a bright future ahead of him. We at Maple are excited to be involved with his latest film."