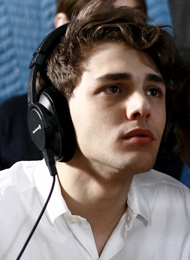 Age: 20
Residence: Montreal
Agency: Agence Artistique Helena
Buzz: Burst onto the scene at the 2009 Cannes Film Festival with J'ai tué ma mère (I Killed My Mother), his moving and unusual love story about a single mother and her son, which picked up three Director's Fortnight prizes and has sold to 14 territories
XAVIER DOLAN
DIRECTOR / WRITER / PRODUCER / ACTOR
For Xavier Dolan, making films is a matter of survival.
"It's a no-brainer. I would probably die without it," says the articulate young Montreal filmmaker, adding that he's "mesmerized" by the response to J'ai tué ma mère, his semi-autobiographical film about the volatile relationship between a single mother (Anne Dorval) and her demanding adolescent, played by Dolan himself.
"Making movies is very poetic. Sometimes it can be so precise and so true. If I can capture an element of truth, then my attempt to imitate life will not be in vain," says Dolan, whose attention to detail is evident throughout our conversation (which is in English, his second language). While we chat on the phone, he repeatedly consults a dictionary to ensure that he is using the right words to express his ideas.
Self-expression is clearly the driving force of Dolan's life and his filmmaking, both of which have become the stuff of legend in Quebec since his recent rise to fame at Cannes.
Indeed, his trajectory is impressive. A former child actor, he wrote the script for J'ai tué ma mère at 17, then a couple of years later produced, directed and starred in the film, which he financed with $150,000 of his personal savings.
At Cannes it picked up the Art Cinema Award, handed out by an international jury of independent film programmers; the SACD prize for best French-language film; and the Regards Jeunes prize, given to an outstanding first-time director by young film fans.
The accolades are certainly incredible, but Dolan's distributor, Louis Dussault of K-Films Amérique, is not altogether surprised.
"When I saw the film, I knew it would work," he says. "I had no doubt. I felt it. The problem was how to get the public to see it. And luckily it went to Cannes. It was the perfect marketing tool."
The art-house film was released to acclaim in Quebec in early June and has performed well, taking in $782,972 in nine weeks.
Dolan now spends most of his time on the script for his next film, Laurence Anyway, a story spanning two decades about a couple negotiating a sex change. "It's inspired by Lawrence of Arabia. But it doesn't star Peter O'Toole," he says, laughing. "It's about love and difference. His wife tries to respect his decision to become a woman because she loves him…. But it goes awry."
Dolan's goal is to expose his audience to aspects of the human condition that they haven't encountered before. "I'm always interested in difference and loneliness," he says. "I want to be close enough to reality to touch people. Going to Cannes is one thing, but changing someone's point of view is another. Both are victories."